Frequently Asked Questions
Q: What is the minimum number of shirts I can order?
A: We can accommodate orders as small as 20 pieces with some restrictions on number of print locations and ink colors. We recommend printing at least 50 pieces (total of shirts, hoodies, sweatshirts, etc.) for the best pricing. Some complicated setups (multiple shirt colors and multiple ink colors) may require a larger minimum order.
Q: How long will it take to get my printed apparel?
A: Our typical turnaround time is 7-14 business days + shipping/delivery time. We often complete jobs sooner. Turnaround time is only an estimate and cannot be guaranteed due to fluctuations in availability of blank garments and other factors out of our control. Complex designs, large orders, or orders with extra add-ons may increase turnaround time. We will always be upfront with you and communicate the expected delivery date. If you have a particular deadline, please notify us when placing an order and we will do our best to accommodate.
Q: Will I be able to see my design before placing an order?
A: Yes. We require artwork approval for every job we print before we start production. A mockup will be provided for your review and approval before we start slingin' ink.
Q: Can I mix and match shirt and ink colors?
A: Yes. There are no extra fees for mixing shirt and garment colors. However, if the ink color needs to change during a run on the press, there may be a small additional charge for ink changes. We will let you know upfront if this is the case with your order.
Q: How many colors of ink can you print?
A: We can print up to 4 colors. Please note that the more colors of ink you print, the higher the cost and the higher the minimum quantity must be.
Q: Can I mix shirt sizes in my order and do I have to order in dozens?
A: You can order as many different shirt sizes as you want and there are no requirements to order by the case or in dozens.
Q: Do you substitute brands/styles if the apparel I want isn't in stock?
A: We work hard to get our clients the sizes, brands and styles they want. However, in rare cases, some items may be out of stock with our distributors. If substitutions are required, we will communicate with you for approval prior to ordering your garments.
Q: How can I get pricing information?
A: Please complete our quote request form and a member of our team will contact you to work out details and provide pricing information.
Q: How much do you charge for screen fees, setup fees or design fees?
A: Getting high-quality apparel should be easy. We like to keep our pricing simple; what we quote is what you pay. There are no hidden charges for screens, setup, or ink mixing fees. In addition, we usually don't have to charge design fees if working with your supplied logo or artwork. In some cases, extensive design time may be billed at $50/hr, but we will communicate upfront with you if your design will require extra time. The only additional fees you will incur is state sales tax if you are in North Carolina, and the man wouldn't let us drop it.
Q: Can I supply my own blank garments?
A: We are happy to provide printing services on customer-supplied goods. Please note that you may be required to provide additional pieces to ensure we meet your total quantity needed. Pricing and further information available upon request.
Q: Can you print samples?
A: Screen printing involves a somewhat time-consuming setup process. We are typically not able to provide printed samples. We can provide digital mockups of the final products to assist you in sales if needed.
Q: How do I pay for my order?
A: We require payment at time of order. We can accept cash, check, credit card, and Paypal.
Q: How will I receive my order? Do you offer shipping or pickup?
A: We can provide local delivery/pickup for most areas in Eastern North Carolina. We can also ship nationwide via USPS or UPS. If your order needs to be shipped, we will work out shipping charges and details with you when placing your order, and tracking information will be provided.
Q: What else can you print?
A: We can print more than shirts: bandanas, tote bags, towels, aprons, and more. We can also help you get stickers, decals, business cards, brochures, signage, and other items. Although we don't print all of these items in-house, we have the knowledge and experience to ensure you get the things you want at a decent price and quality you expect.
Q: What is the standard placement and sizing for my artwork?
A: Placement and size of artwork is different for every job, and we can print just about anywhere. For the most common print sizes and placement, please refer to the image below.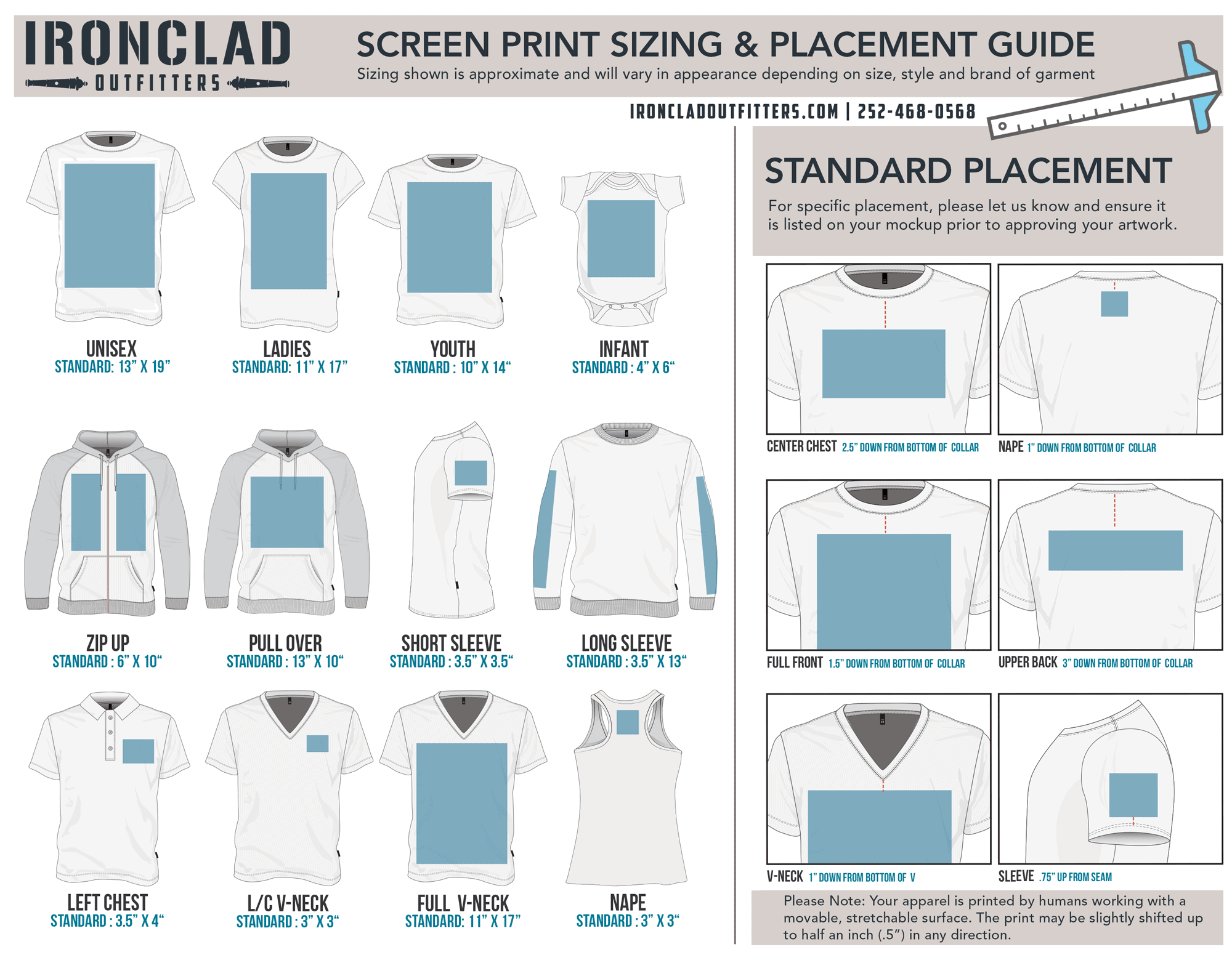 Let's get started
You need things. We make things. It's a perfect match.